EPLUN: WOUND AND BURN FIRST AID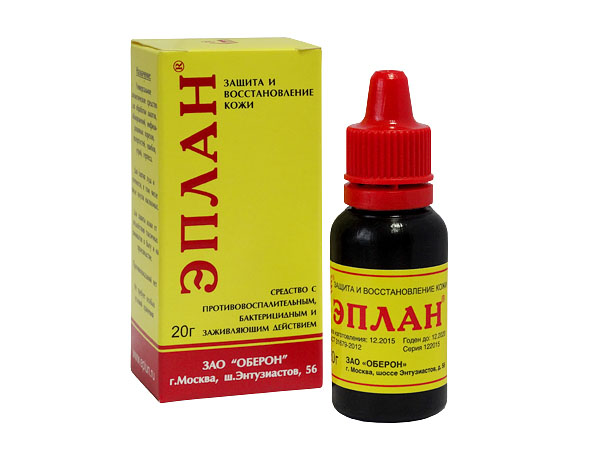 EPLUN is used to treat wounds, skin injuries of any origin and for burn first-aid: it accelerates the healing process, reduces the risk of complications, prevents the development of pustular skin lesions, destroys microbes and bacteria, prevents wound infections. After treatment of wounds with EPLAN, they are healing faster, because there is no secondary infection, necrosis or eschar on the wound. Bandages soaked with EPLUN don't stick to the wounds.
EPLUN is an antiseptic drug for wound care in the form of ointment EPLUN-cream, liquid EPLUN-solution, napkins for external use with bactericidal, anti-inflammatory, wound healing, regenerating, detoxifying, antipruritic, analgesic, protective and softening effect.
Ingredients of EPLUN: triethylene glycol, ethylcarbitol, glicolan, glycerin.
Glycolan enhances the regenerative properties of tissues during the treatment, ethylcarbitol provides antibacterial effect, triethylene glycol disinfects and cleanses the wound, glycerin has a softening effect and creates a protective layer on the surface of the epithelium. There are no antibiotic and hormonal components in the wound care medication EPLUN.
EPLUN - UNIVERSAL TREATMENT FOR ALL TYPES OF BURNS AND WOUNDS
EPLUN-cream and EPLUN-solution are efficient for the burn treatment, wound first-aid, treatment of cuts and any skin deseases and injuries.
FIRST AID
EPLUN is used for for various injuries to the skin: all kinds of burns first aid – sun, heat, radiation, chemical burns, etc., Use solution EPLUN or EPLUN-cream as first aid for burn treatment.
EPLUN is also recommended for the treatment of wounds, frostbite, skin wounds after exposure to toxins. Medication EPLUN is the first aid for wound care, abrasions, cuts.
TREATMENT OF SKIN DISEASES AND INJURIES
EPLUN is used for the wound care of injuries such as sun, thermal, chemical burns; frostbite; bruises, wounds, cuts, abrasions, abrasions, cracks; early and late radiation damage to the skin; bedsores; psoriasis; pyoderma (staphylococcal and streptococcal), microbial eczema, dyshydrosis, complicated secondary infection; viral infection (herpes, warts, warts, condylomas, pappilomas); acne; boils, sycosis, eczema, burns and traumatic injuries; otitis, otomycosis, etc.
Medication EPLUN accelerates the healing of wounds, burns, any skin damage, reduces the risk of complications.
REMOVAL OF SWELLING AND ITCHING OF THE SKIN
including insect bites (mosquitoes, wasps, bees, etc);
PROTECTING YOUR SKIN FROM THE ADVERSE EFFECTS
EPLUN is used to protect the skin from exposure to various toxic substances. EPLUN is used to protect the skin from oil products, varnishes, acids, industrial oils and cutting fluids.
IN SPORT
EPLUN is used for the wound treatment of sports injuries, bruises, hematomas.
FOR ANIMALS
EPLUN can be used in veterinary medicine for the treatment of similar wounds and diseases in animals.
IN MILITARY
EPLUN is used by the Ministry of Defense of the Russian Federation in Individual anti-chemical package IPP-11. IPP-11 is designed to neutralize toxic and irritating substances on human skin and personal protective equipment. When applied to the skin in advance, it protects from the effects of chemical warfare agents* for 6-24 hours.
EPLUN is a universal and truly indispensable wound and burn first-aid medication for first-aid kits at home and in cars.
LANTHANUM. THE EFFECT OF LANTHANIDES ON BIOLOGICAL PROCESSES DURING WOUND CARE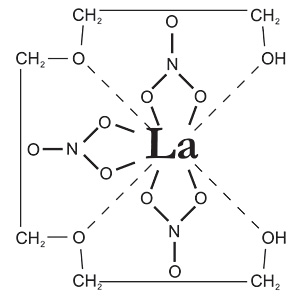 The healing effect of EPLAN (solution EPLUN and EPLUN-cream for healing burns, wound treatment, cuts and abrasions), undoubtedly, is due to the Lanthanum in its ingredients. Lanthanum is one of the rare earth metals (lanthanides). Some lanthanides, including lanthanum, are found in the human body. A small number of them found in the spleen, very small amounts (0.1 mg/kg) – in dentin and tooth enamel. It doesn`t seem that lanthanoids are necessary for the normal functioning of the body, but their ability to influence biological processes is certain. Being good complexing agents, they are able to form complexes with many organic ligands (carbohydrates, amino acids, oxyacids, nucleotides, phosphatides, vitamins). The effect of lanthanides on biochemical functions is related to their ability to replace Ca2+ in biological systems. The presence of f-electrons in the electronic shells of their atoms has a certain influence on the biological properties of lanthanides due to the effect of their magnetic microfields. This explains the ability of lanthanoids to increase the phagocytic activity of blood leukocytes.
The use of lanthanides in medicine is primarily associated with their anticoagulant properties. They affect various stages of the blood clotting process: inhibit the synthesis of prothrombin, have antagonistic properties against thrombin, act as antimetabolites Ca2+ , displacing it from systems with one or more protein coagulation factors; increase the level of free heparin in the blood when administered in sufficiently large doses.
Lanthanum ions have anti-inflammatory effect, they have a greater affinity to phospholipids and "stabilize" the membranes of cells by blocking ion channels, the effect of lanthanides on inflammation similar to the effect of corticosteroids.
EPLAN is one of the most affordable drugs on the Russian market for burn treatment, wound care, treatment of cuts, abrasions, it is designed to protect the skin. You can choose EPLUN cream or liquid solution EPLUN the treatment of burns, wounds, other skin lesions, you can consult the manufacturer via e-mail.




MEDICATION FOR WOUND CARE, TREATMENT OF BURNS, CUTS, ABRASIONS. DESCRIPTION OF MEDICATION EPLUN
EPLAN is antiseptic dermatotropic product of synthetic origin for external use. Components: triethylene glycol, ethylcarbitol, glicolan, glycerin. These components are safe and provide its unique medical effect.
The main effects of medication EPLUN are: bactericidal, anti-inflammatory, wound healing, regenerating, detoxification, antipruritic, analgesic, protective and softening action, which in combination create optimal conditions for healing wounds, burns, abrasions, cuts of any origin, burn first-aid.
Side effects: not found. EPLUN is non-toxic, has no contraindications to repeated and long-term use. Doesn`t cause allergic reactions.
EPLAN has no contraindications for use (except for individual intolerance to its components), does not contain antibiotics, hormonal agents and ethyl alcohol.
EPLUN is produced if forms: EPLUN cream, EPLUN solution, disposable napkins.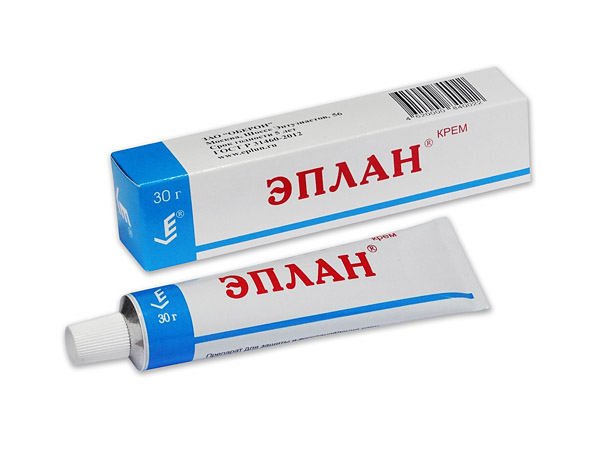 BACTERICIDAL AND ANTI-INFLAMMATORY EFFECT
Wound that have skin damage (particularly wounds of mechanical origin) are initially infected: pathogenic bacteria gets into the wound. Without proper primary wound treatment, infectious contamination of the wound can increase. However, it is necessary to protect the wound not only after providing wound first-aid, but also during the healing process, because it can be re-infected, which will lead to pain and inflammation.
EPLUN wound care medication destroys most bacteria and microbes. Components, that actively provide this effect, are triethylene glycol, ethylcarbitol, glicolan.
Phagocytes are cells that protect the body from infection. Glycolan has a high antimicrobial activity and increases the phagocytic activity of blood leukocytes (phagocytes capture and destroy infectious agents, releasing a substance that damages bacteria and fungi, increasing the flow of immune cells to the inflamed area). This leads to a rapid cleansing of the wound or burns during first-aid, eliminates the growth of pathogenic bacteria and in the wound and on the surface of the skin around the wound.
Etilcarbitol has disinfectant and antimicrobial properties and enhances the action of glycolan. As a result, wound care with EPLUN cream or liquid EPLUN solution prevents secondary infection of the wound, the healing process goes fast and without complications.
Triethylene glycol disinfects and protects the wound.
WOUND HEALING AND REGENERATING EFFECT
EPLUN is a catalyst for skin regeneration. The effect of EPLUN as a drug for regeneration, skin repair, rapid healing of wounds and burns, due to the lanthanide (Glicolan) in its composition. Glicolan causes proliferation of damaged cells.
EPLUN cream or liquid EPLUN solution used for burn first-aid and wound treatment triggers the process of exposure to lanthanides on the membranes of proliferating skin cells, which leads to stimulation of cell division and rapid wound healing.
DETOXIFYING ACTION
Sometimes toxins can form in a wound, and unoxidized compounds, bacterial tissue, necrotic tissue can start developing. As a result, there are signs of toxic damage. Glicolan, a component of EPLUN, enhances the phagocytosis of red blood cells and tissue: blood leukocytes are actively destroying pathogenic bacteria and dead cells, preventing them from getting into patient's blood Toxins are removed from the wound and the patient's body.
EPLUN itself is not toxic, does not contain hormonal components.
Especially it should be noted the importance of detoxification of wounds and skin in large wound surfaces, chemical burns, toxic chemicals and insect bites, the prevention of household infections, the protection of the skin in the home and in the workplace.
ANTIPRURITIC AND ANALGESIC ACTION
Treatment of wounds means EPLAN has a local analgesic effect, stops the skin from itching. A thin layer of the medication on the wound surface protects the sensitive nerve endings of the underlying tissues from irritation.
In addition, glicolan, a component of EPLUN, removes toxins from the wound, ethylcarbitol and triethylene glycol disinfect the wound and enhance the protective properties of the wound during treatment.
PROTECTIVE ACTION
When applied on the skin, EPLUN penetrates into the upper layers of the epidermis and fills the intercellular space. In wound care this allows to create a protective preventive barrier, which is effective for up to 8 hours. A kind of "biological glove" allows to protect the skin from exposure to various toxic substances at home and at work. EPLUN is used to protect the skin from petroleum products, varnishes, acids, industrial oils.
EPLUN does not penetrate into the deep layers of the epidermis and does not affect the natural proliferation of epidermal cells, does not change the hydrophilic-lipophilic balance of the skin.
SOFTENING EFFECT
One of EPLUN`s components is glycerin, which retains moisture in the skin, saturates epidermis with moisture. In wound care glycerin creates a protective layer on the surface of the wound, it does not impede the flow of oxygen to the wound, prevents it from drying and forming eschar. In addition, the access of oxygen to the wound allows to maintain the increased phagocytic activity of blood cells and tissues (phagocytosis can happen only if oxygen can access the wound), which allows the wound to heal faster.
The softening effect of EPLUN cream or solution EPLUN reduces pain during burn treatment and prevents inflammation.
INDICATIONS FOR USE
- solar, thermal, chemical burns and frostbites, bruises, wounds, cuts, abrasions, abrasions, cracks;
- radiation damage to the skin;
- trophic ulcers and bedsores;
- psoriasis;
- pyoderma (staphylococcal and streptococcal), microbial eczema;
- dyshidrosis complicated by secondary infection;
- infection: herpes, warts, kandiloma, papilloma;
- acne;
- diseases of the nose (boils, sycosis, eczema, burns and traumatic injuries), external and middle ear (otitis media, otomycosis, etc.);
- removal of swelling and itching of the skin of various origins, including insect bites (mosquitoes, wasps, bees, etc);
- preventive protection of the skin from chemicals and aggressive environments (including detergents, fertilizers, solvents, etc);